"Rivers, and so the Mekong, are organic entities – what is done in one part of the river affects the river in its entirety," Milton Osborne, author of "The Mekong: Turbulent Past, Uncertain Future," told Nikkei. "Hence once the Chinese and then the Lao started building their dams, there was never going to be a return to the Mekong's wild river character." 
He laments the devastation of farms and fish stocks since construction of the "cascade of dams" on the "cruelly tamed" Mekong began in 1984, and the MRC's inability to block dam building. 
Laos, Thailand, Cambodia and Vietnam in 1995 formed the MRC to manage the shared waters. Conspicuously absent from the coalition is the most powerful riparian country: China.
China's water-based tensions with Vietnam are always on a simmer because of their clashing claims in the South China Sea. But the world's two biggest communist countries attempt to project friendly ties, each seeing the other's ruling party as crucial to its own. Still, Hanoi has become more assertive, criticizing "unsustainable development projects upstream" at the MRC Summit in April.
"No rivers can return to the past," MRC Secretariat CEO Anoulak Kittikhoun told Nikkei. He said countries must prioritize goals, like saving wetlands, and "balance between development and environmental protection. And I think it's not too late."
Meanwhile, Vietnam's renewable freshwater resources have declined significantly over the last few decades.
While the commission can't force change on China, dubbed the "upstream superpower," Beijing did agree in 2020 to share water-flow data with the commission.
Smaller neighbors can use the deal, along with "behind-the-scenes" negotiations, to press Beijing for transparency and compare its data to their own, said Yong, who focuses on transboundary governance of the Mekong River Basin.
"This might incentivize China to be more cooperative because it's less able to hide data about its dam operations," Yong said. The MRC hopes China will eventually share sediment data.
In the course of three decades, dams may decimate nearly all the soils that swirl down to the delta – by 2040 it could be left with just 3% of its 2007 sediment levels, the commission has projected. In such a situation, MRC's Anoulak said, "it will cease to be the Mekong."
Still, there is an increase in downstream countries' joint planning for how they exploit the river, and in joint studies with China that "build trust," he said. "We would have liked it to move much faster. But we have reality to wrestle with."
The attenuated river flow creates and compounds other stresses on the delta, such as extraction-induced subsidence. With less water arriving, farmers pump it from the ground, which is sinking as a result.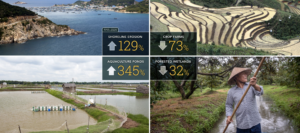 As less sediment reinvigorates the soil, farmers turn to fertilizer. Some have increased fertilizer use as much as 40% in the past five years, says Nguyen Van Phong, whose Can Tho Farms pushes growers to try natural substitutes for chemicals.